Regular price
Sale price
$10.77 USD
Unit price
per
Sale
Sold out
Free shipping for purchases of 11,000 yen (tax included) or more!
Share
This time I bought directly from the tea garden.
There are two types of RUHUNA with different leaf grades.
⋱⋰ ⋱⋰ ⋱⋰ ⋱ Appraisal comments in 2022
It has a deep sweet scent like burnt sugar, and you can feel the thickness of a flowery (containing a lot of sprouts). The tea leaves are large and very beautiful. It feels luxurious and even elegant. It's a gem that I'd like you to eat with black tea.
… …
FBOP is an abbreviation for "Flowerly Broken Orange Pekoe".
It is a tea leaf that contains many sprouts of leaves. When it contains sprouts, it becomes thicker and has a deep sweetness and richness, making it very fragrant.
Leaf size is larger than BOP (Broken Orange Pekoe).
It's a rare black tea, so please enjoy it with black tea.
| | |
| --- | --- |
| Internal capacity | 100g |
| tea leaf shape | FBOP |
| steaming time | 4-5 minutes |
| how to enjoy | black tea |
[RUHUNA Ruhuna]

Ruhuna tea is produced mainly in the Sabaragumwa district in southern Sri Lanka. Ruhuna is not an actual place name, but the name of one kingdom when Ceylon was once divided into three kingdoms (Hipiti, Maya and Furna). At an altitude of 200 to 400 meters, it is cultivated in the lowest place among low-grown teas, and banana and coconut trees are planted together in the tea garden, which is unique to this area.
Because the temperature is always high, the leaves grow well, and the size of the tea leaves is nearly twice that of high-grown tea leaves. Twisting the fresh leaves during the tea-making stage produces more leaf juice than smaller tea leaves, resulting in stronger fermentation. The finished tea leaves are very black in appearance and are characterized by heavy astringency, sweetness and smoky aroma.
View full details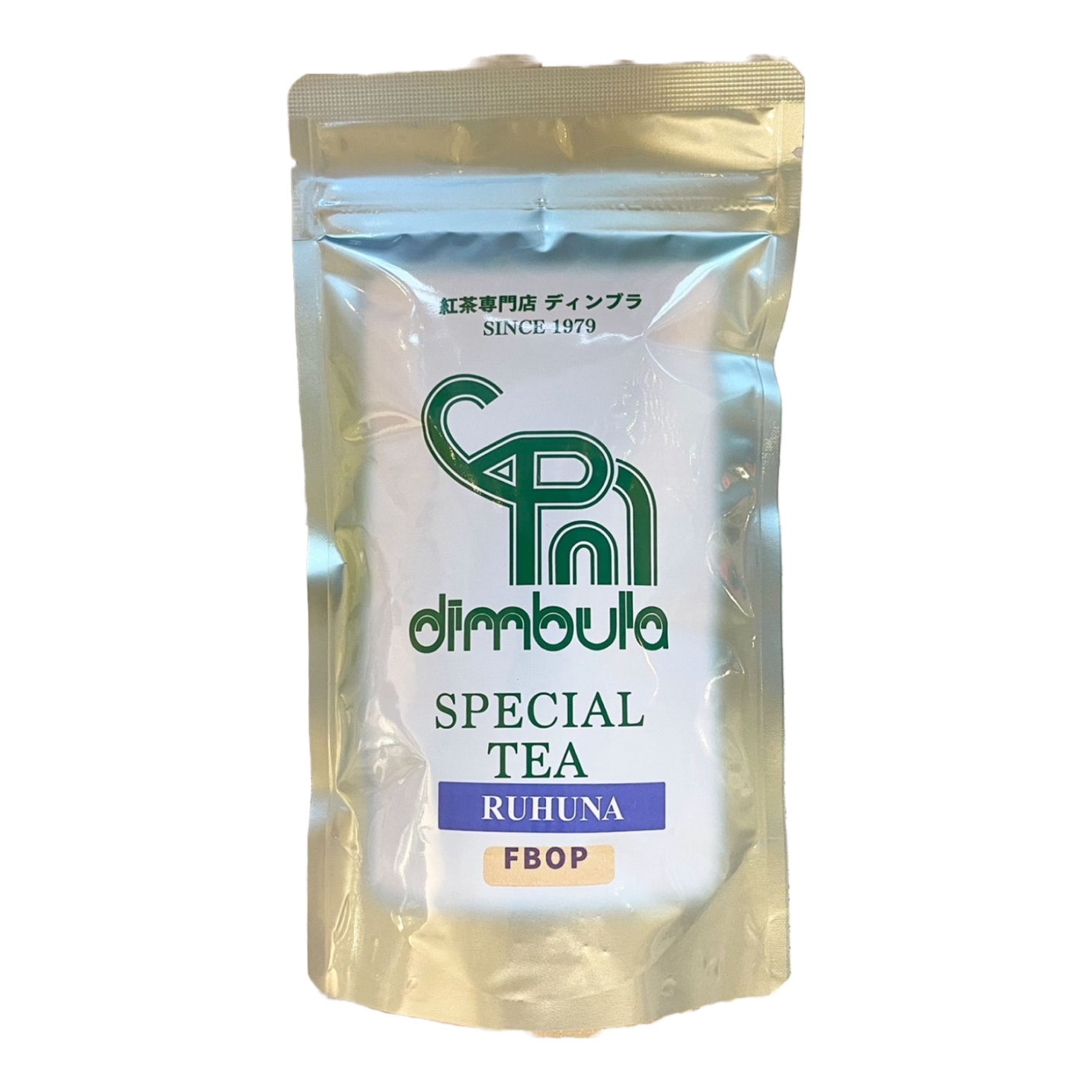 Notice to customers
Thank you very much for your patronage of the tea specialty store Dimbura.
Two years have passed since my father, Takeshi Isobuchi passed away.
"Tea Isobuti Company", which my father founded, and our shop "Tea Specialty Shop Dimbura" have different business owners and have no relationship at all.
Dimbura, a tea specialty store, imports and sells black tea independently following the wishes of my father.
In addition, the name "Isobuchi" has taken on a life of its own, and I am very puzzled by the fact that there are so many products related to black tea.
It seems that there are many similar products on the market, so please be careful.
Best regards